DRAFT: This module has unpublished changes.
Algiers the White
Welcome to my ePortfolio Project !
My name is Ahlem, I am from Algeria and living in Algiers. I am a young architect with some professional experience. I received my graduation degree at University of Blida on 2011. Since my graduation studies I was always interested to know more about Rome and the Renaissance. 
It was a pleasure to have joined this course and participate in this ePortfolio project. I am really happy and grateful for this unique opportunity to gain such a huge knowledge from such a great professor.
I am also very happy for having the opportunity to prepare myself for the strong program of the university of my dreams, University of Notre Dame, where I want to study Master of Architectural Design and Urbanism.
In this enrichment project, I would like to choose three examples from three different cities for each part: Memory, Reliquary and Theater to enrich my self and develop my knowledge.
In the first part of the project, I have chosen a site from my hometown Algiers, the historical centre of this Mediterranean city. The Casbah of Algiers this beautiful place full of memories, always fascinating and certainly stays in the memory of Algiers and Algerian people, what made me thinking of it as a good example of The City as a Memory.
In the second part, I will move to Rome, that city have always inspired me and I want to visit it in the future. So I have chosen a great Building from the provided list: The Basilica di Santa Maria Maggiore because I find it the best exemple of Reliquary.
Finally in the last part of the project, I have chosen an outstanding city in Russia where I have been already and it really inspired and fascinated me. St. Petersburg this city full of history, mystery, life and meaning, seems to me like a wonderful exemple of The City as Theater.
Picture taken in St. Petersburg. Church on Spilled Blood on the background
DRAFT: This module has unpublished changes.
DRAFT: This module has unpublished changes.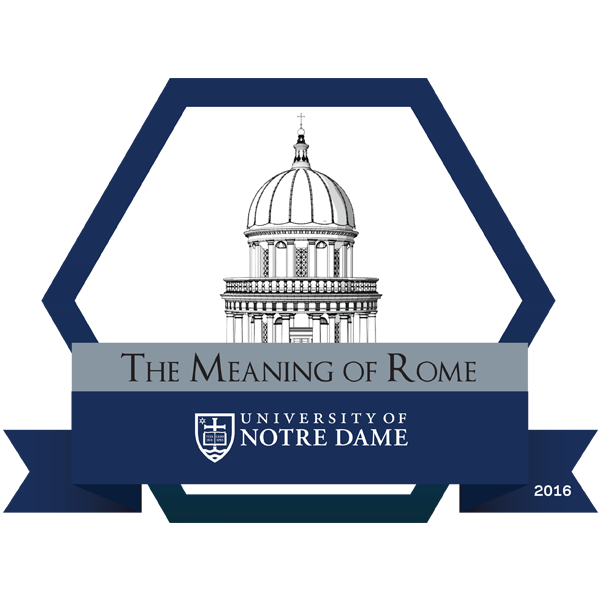 x
View on Credly.com

Badge Details

Title

Tempietto Badge

Description

This badge recognizes mastery in the application of three architectural concepts central to the 'reading' (evaluation) of a building or place as taught in "The Meaning of Rome" MOOC. Badge earners demonstrate mastery through projects which successfully address the following: Visual representations (graphics, animations, videos, audio, etc.) Historical background descriptions The architectural concept visible in the site A rationale for the student's interpretation and outside substantiation

Criteria

To earn this badge, students in the Notre Dame MOOC "The Meaning of Rome: The Renaissance and Baroque City" must: Become eligible through performance on three checkpoint surveys during the MOOC Demonstrate mastery of core course concepts through a three-part project, as determined by subject-matter experts Create a single publicly accessible site which addresses all three parts of the project Meet submission deadlines

Issue Date

Jul 17, 2014

Expiration

Never

Evidence

Issuer Details
DRAFT: This module has unpublished changes.