DRAFT: This module has unpublished changes.
Welcome!

I am not a native Chicagoan or even midwesterner.  I returned to my hometown in upstate New York with my Bachelor's of Architecture to look for my first job.  I left for New York City to keep looking, and then my college roommate said, "Come live with me and try Chicago" so I did. That was 1978. There is something pretty special about this place certainly for someone starting out. I found this city to be very forgiving in my early days as a poor, working architect and my fondness has grown into a devotion to its architecture, its lakefront, its neighborhoods and the life that's possible. I have a family here, I built my career here, and I imagine I will retire here so I wanted to choose buildings from Chicago for my ePortfolio.
While researching my choices for this project, I discovered that Daniel Burnham was also born in upstate New York and moved to Chicago though at a much earlier age than I did (he was 8). That was my second connection to Daniel Burnham. I made the choice to write about and research two buildings on Michigan Avenue and it turns out his 1909 Plan laid the groundwork for those two locations.
From the start, I planned to use his vision for the aesthetic of the 1893 World's Columbian Exposition to introduce my example of "The City And Theater". And then I discovered that this comprehensive plan for the fair inspired the Merchants Club of Chicago to commission him to create his 1909 Plan for Chicago. And it turns out, that plan, the first modern comprehensive city plan in America, was the plan that recommended a bridge at the Chicago River extending Michigan Avenue north. I came full circle!
These connections are what I really enjoy about research and history.
Chicago has its share of good stories: Mrs. O'Leary and her cow, Resurrection Mary, and the vault of Al Capone, and so many milestones: the Chicago fire, the Columbian Exposition, A Century of Progress, and the Golden Lady.
Who is the Golden Lady? In "The City And Theater", I include many pictures of the Court of Honor and standing in front of the court, inside the Great Basin pool is the original 65' Statue of the Republic for the 1893 Exposition. Research led me to a small park in Chicago at the intersection of two streets, where this replica at one-third scale stands, marking the spot between the exposition's Electricity and Administration Buildings. This replica is widely known as the "Golden Lady".
The nation's first skyscraper and some of the greats of architecture are connected to this city.
The first steel frame skyscraper was the Home Insurance Building built in Chicago in 1885.
It was 138 feet high or 10 stories and as more tall buildings were built came to represent "The Chicago School of Architecture". The architect was William Le Baron Jenney.
Famous sculptors lived in this city too. I discovered Gwen Lux after discouraging searches on "Relics in Chicago, IL" and "Reliquaries in Chicago, IL".  I was walking along Rush Street to meet friends for dinner on Michigan Avenue and passed the newly opened hotel, The Gwen. The hotel wasn't really new; it had been the Conrad Hilton and was now under new management. I think because of this class, I wondered at the significance of the new name?  Why Gwen? I was delighted to find a "spolie" of sorts, my own doorway to something beyond.
The entire facade of The Gwen is actually the preserved and reattached facade of the 1928-1929 McGraw-Hill Building, its Michigan Avenue elevation, that previously stood in the exact same site. The original McGraw-Hill Building represented one of the first collaborations between sculptor and architect with adornments sculpted by Gwen Lux, the Gwen of "The Gwen"!
1929 McGraw-Hill Building
High relief, "The Face Of Atlas", Gwen Lux
Many of the highlights of modern day Chicago are the realities of Burnham's plan: uninterrupted lakefront park and accessible beaches, State-Street-that-great-street and the "Magnificent Mile".
And because of this class, I realized it all starts with that rare combination of people who have a vision and share a commitment to a plan to "make the city more convenient for business and more enjoyable for the private citizen". (1) The original plan extended 60 miles from the center of the city so it had to be implemented in stages and of course that meant parts of the plan survived and parts were discarded as needs changed. The point to remember is that because of the "big idea", a larger vision held dear, decisions were made within those guidelines keeping the bigger picture in mind.
In Chicago those big ideas came at an opportune time. The slate was essentially wiped clean by fire in 1871 and Burnham's plan was adopted in 1909.
My research reminded me that cities choose what to save. And I was encouraged by the success stories of the preservation groups and everyday citizens who rallied to save the buildings I chose. These structures were saved by people who convinced the city planners to repair, restore, refurbish, re-use or adapt rather than demolish. And it's quite a democratic notion that they, joined together, could do so much to save these treasures. And today, we all agree they are treasures.
My favorite views of Chicago are usually those views that show wide open spaces with the skyline. Looking deeper into its story is what taking this course has done for me.
(1) www.chipublib.org/about-daniel-burnham/, Chicago Public Library.
DRAFT: This module has unpublished changes.
DRAFT: This module has unpublished changes.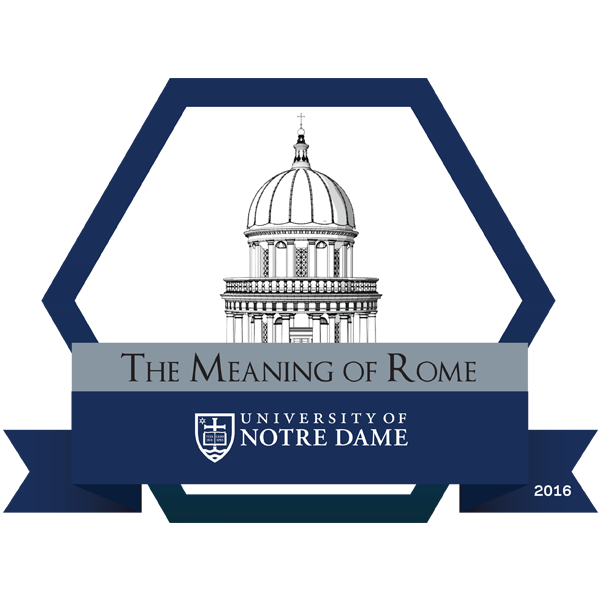 x
View on Credly.com

Badge Details

Title

Tempietto Badge

Description

This badge recognizes mastery in the application of three architectural concepts central to the 'reading' (evaluation) of a building or place as taught in "The Meaning of Rome" MOOC. Badge earners demonstrate mastery through projects which successfully address the following: Visual representations (graphics, animations, videos, audio, etc.) Historical background descriptions The architectural concept visible in the site A rationale for the student's interpretation and outside substantiation

Criteria

To earn this badge, students in the Notre Dame MOOC "The Meaning of Rome: The Renaissance and Baroque City" must: Become eligible through performance on three checkpoint surveys during the MOOC Demonstrate mastery of core course concepts through a three-part project, as determined by subject-matter experts Create a single publicly accessible site which addresses all three parts of the project Meet submission deadlines

Issue Date

Jul 17, 2014

Expiration

Never

Evidence

Issuer Details
DRAFT: This module has unpublished changes.