DRAFT: This module has unpublished changes.
 Salt Lake City, UT

My name is Jay Hobbs, and I am an architecture student in the graduate program at the University of Notre Dame. I received my undergraduate degree in Interdisciplinary Humanities with an emphasis in Art History. I was born in Utah and grew up in Rexburg, ID.
I had the opportunity to travel to Rome in college on a European study abroad with the Art History department. At the time I was studying construction management, but my trip toRome and other European cities completely inspired me. I was so moved by the wealth of art and architecture--the city was completely different than any place I had ever visited. I could not articulate what it was that moved me and made me feel the way I did, and so upon my return I immediately changed my major.
Having had the opportunity to study traditional cities and learn from Professor David Mayernik, I have chosen to complete a portfolio on Salt Lake City, UT. I grew up near Salt Lake City and was able to visit often. As a member of the LDS church, the city has always been an important destination for my family and me, and I would like to take the opportunity to apply what I have learned in this course as I research its inception and development.
My project will focus entirely around Temple Square, which is a block of land that was origianlly the center of the city. For Part 2: The City and Memory I will discuss the inital plans of the city and Temple Square in general due to its critical role in the city and community. In Part 3: The City and Reliquary I will narrow my focus on the temple, and for Part 4: The City and Theater I will discuss the importance and history of the Tabernacle.
DRAFT: This module has unpublished changes.
DRAFT: This module has unpublished changes.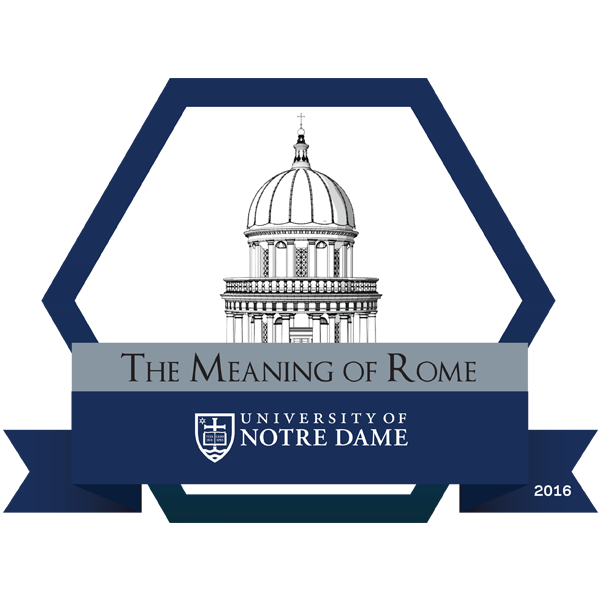 x
View on Credly.com

Badge Details

Title

Tempietto Badge

Description

This badge recognizes mastery in the application of three architectural concepts central to the 'reading' (evaluation) of a building or place as taught in "The Meaning of Rome" MOOC. Badge earners demonstrate mastery through projects which successfully address the following: Visual representations (graphics, animations, videos, audio, etc.) Historical background descriptions The architectural concept visible in the site A rationale for the student's interpretation and outside substantiation

Criteria

To earn this badge, students in the Notre Dame MOOC "The Meaning of Rome: The Renaissance and Baroque City" must: Become eligible through performance on three checkpoint surveys during the MOOC Demonstrate mastery of core course concepts through a three-part project, as determined by subject-matter experts Create a single publicly accessible site which addresses all three parts of the project Meet submission deadlines

Issue Date

Jul 17, 2014

Expiration

Never

Evidence

Issuer Details
DRAFT: This module has unpublished changes.