DRAFT: This module has unpublished changes.
Dublin, Ireland
My name is Jana Rocholl and during my everyday life I have no notable affiliation with the area of architecture. I am a trainee nurse setting her eyes on medical school and I currently live in Düsseldorf, Germany, having previously moved from multiple towns within this country.
After being shortly introduced to the subject of architecture and it's history in school, I retained a lively interest in it and have seen this MOOC as a great opportunity to delve deeper into the subject, especially since I had visited Rome a few years ago and was delighted to recognise quite a few of the buildings.
Rome has impressed me greatly due to it's beauty and liveliness, as well as due to the sheer number of historical buildings, which is greater than in any other town I could think of and in past and present has inspired architectural development throughout the world.
For my very own project I have chosen to reflect on the city of Dublin.
I have a very deep emotional connection with this city as I have been fascinated by Ireland and it's history for a number of years and have read and heard a great deal about it. Unfortunately I was only able to visit the city once for a few days, but I have my mind quite set on moving there for some years at a time when my life circumstances allow it.
View of Dublin's O'Connell Bridge from above
http://www.abenteurer.net/wp-content/uploads/Dublin.jpg
DRAFT: This module has unpublished changes.
DRAFT: This module has unpublished changes.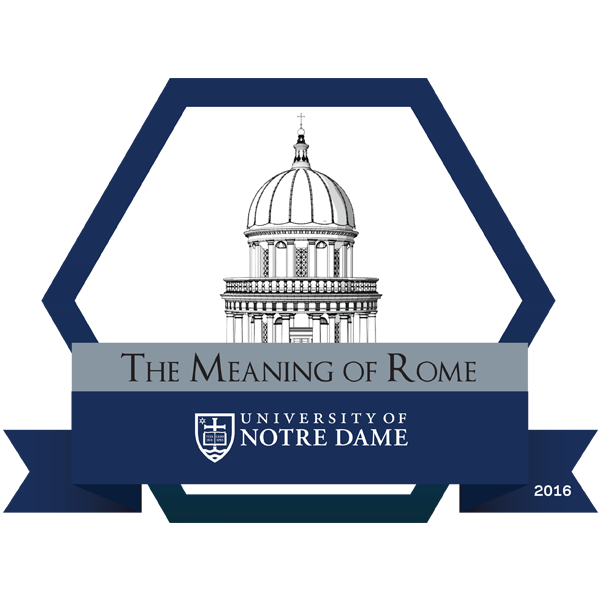 x
View on Credly.com

Badge Details

Title

Tempietto Badge

Description

This badge recognizes mastery in the application of three architectural concepts central to the 'reading' (evaluation) of a building or place as taught in "The Meaning of Rome" MOOC. Badge earners demonstrate mastery through projects which successfully address the following: Visual representations (graphics, animations, videos, audio, etc.) Historical background descriptions The architectural concept visible in the site A rationale for the student's interpretation and outside substantiation

Criteria

To earn this badge, students in the Notre Dame MOOC "The Meaning of Rome: The Renaissance and Baroque City" must: Become eligible through performance on three checkpoint surveys during the MOOC Demonstrate mastery of core course concepts through a three-part project, as determined by subject-matter experts Create a single publicly accessible site which addresses all three parts of the project Meet submission deadlines

Issue Date

Jul 17, 2014

Expiration

Never

Evidence

Issuer Details
DRAFT: This module has unpublished changes.