DRAFT: This module has unpublished changes.
Welcome!
Art class, when I had it as a child, was always one of my favorites.  Also while in school I deveopled a love for writing in my native language (Engligh) and learning new one (Spanish). During my college years, I began to learn how to create new media through web development.  I entered the field of marketing, where text and images both come together to convey an idea.  Working with photographers, printers, writers, designers, and programmers to create finished products was always a rewarding process, and I enjoyed interacting with professional people in those fields.
Recently, I have begun an independent studies of both language and graphic design.  I began reading books about Latin and began realizing how far this culture's words and ideas reach.  I  began reading books about graphic design, and instead of learning about brochures or postcards, I started seeing people use design to tackle environmental projects such as subway maps! I took this class, The Meaning of Rome for two reasons.  One is that my faith tradition is Roman Catholic, and I visited Rome for World Youth Day in 2000.  I hoped to better absorb the Rome I saw briefly there. Secondly is because of many ways we Americans are Romans too.  I am always inspired by combining the old with the new, and wanted to find that connection through this class.
By coincidence, while this class was in process, my husband and I took a trip to New York City.  The reason for the trip was recreational, but also had an element of pilgrimage to St. Patrick's Cathedral.  I have lived my whole life in the Midwest, and wanted to experience the church through a different, but still American, perspective. 
DRAFT: This module has unpublished changes.
DRAFT: This module has unpublished changes.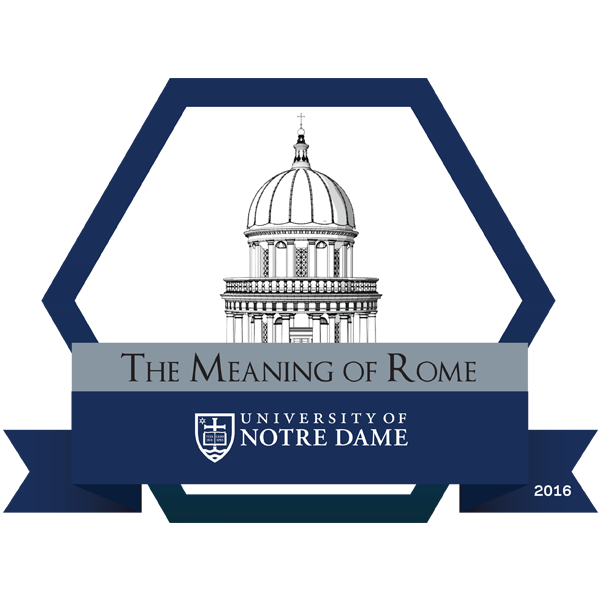 x
View on Credly.com

Badge Details

Title

Tempietto Badge

Description

This badge recognizes mastery in the application of three architectural concepts central to the 'reading' (evaluation) of a building or place as taught in "The Meaning of Rome" MOOC. Badge earners demonstrate mastery through projects which successfully address the following: Visual representations (graphics, animations, videos, audio, etc.) Historical background descriptions The architectural concept visible in the site A rationale for the student's interpretation and outside substantiation

Criteria

To earn this badge, students in the Notre Dame MOOC "The Meaning of Rome: The Renaissance and Baroque City" must: Become eligible through performance on three checkpoint surveys during the MOOC Demonstrate mastery of core course concepts through a three-part project, as determined by subject-matter experts Create a single publicly accessible site which addresses all three parts of the project Meet submission deadlines

Issue Date

Jul 17, 2014

Expiration

Never

Evidence

Issuer Details
DRAFT: This module has unpublished changes.